PVC HEAT SHRINKABLE LAY FLAT (L/F) TUBING is one of the radical products, since it is suitable for various kinds of packaging. To make the market products more valuable for market penetration, higher transparency & surface finish at substantial low cost, SHRINK PACKAGING was employed.
PVC HEAT SHRINKABLE LAY FLAT TUBING / SLEEVES / MULTICOLORED LABELS shrink on application of indirect heat. Since PVC Shrink has features of Pilfer Proof, Tamper proof, Greater Transparency, Enhancing product Appearance, Value Addition, etc., it is used all over the world for packing & sealing of an entire range of PET / Glass Bottles, HDPE / Glass / Metal containers, Boxes, cartons, etc., in almost every industry.
---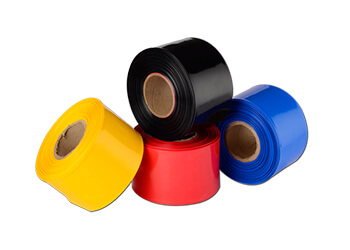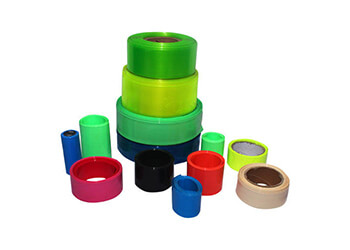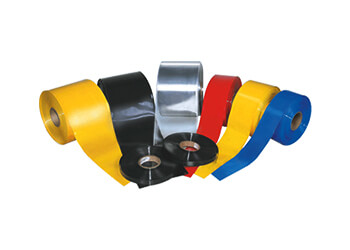 PVC HEAT SHRINKABLE L/F TUBING AS INSULATION PROVIDER :
INSULATION
BUSBAR APPLICATION
THICKNESS: 0.2 mm + 0.03 mm
COLORS: RED, YELLOW, BLUE and BLACK
UNIT: 50 Meters Roll.
PROPERTIES :
Working Temperature : 90ºC
Dielectric Strength : 20 KV/mm
Insulation Resistance : 20 x 1010 ohms at 500 V D C
Tensile Strength : Min 400 Kg/cm
Ultimate Elongation : Min 11%
Chemical Resistance : Good
Fire Resistance : Self-Extinguishing
Shrinking Temlierature : 150ºC - 170ºC for 4-5 minutes.
Mechanical Strength : Excellent
Heat Dissiliation : Excellent
---
The chart below will give you the complete idea of the BUSBAR sizes & the right size of PVC HEAT SHRINKABLE TUBING for the respective size of BUSBAR.
| | | |
| --- | --- | --- |
| Sr. No. | BUSBAR SIZE | SUITABLE SIZE OF SLEEVE ( Width ) |
| 1. | 8 x 4 , 6 x 6, 10 x 3 | 17 mm |
| 2. | 12 x3, 9 x 6 | 20 mm |
| 3. | 15 x 3, 12 x 6 | 25 mm |
| 4. | 20 x 3, 18 x 6, 16 x 3 | 30 mm |
| 5. | 25 x 3, 20 x 6 | 35 mm |
| 6. | 26 x 6, 25 x 9 | 41 mm |
| 7. | 30 x 10, 30 x 6, 25 x 12 | 48 mm |
| 8. | 38 x 6, 30 x 12 | 55 mm |
| 9. | 40 x 10, 40 x 6, 38 x 12, 38 x 9 | 61 mm |
| 10. | 50 x 6 | 73 mm |
| 11. | 50 x 12, 50 x 10 | 81 mm |
| 12. | 60 x 6 | 85 mm |
| 13. | 75 x 6 | 93 mm |
| 14. | 75 x 12 | 103 mm |
| 15. | 90 x 12, 90 x 6 | 110 mm |
| 16. | 100 x 9, 100 x 6 | 128 mm |
| 17. | 100 x 12 | 140 mm |
| 18. | 125 x 10, 125 x 6 | 170 mm |
| 19. | 150 x 12, 150 x 10, 150 x 6 | 190 mm |
| 20. | 175 x 12, 175 x 10, 150 x 6 | 210 mm |
| 21. | 200 x 12 | 230 mm |
---